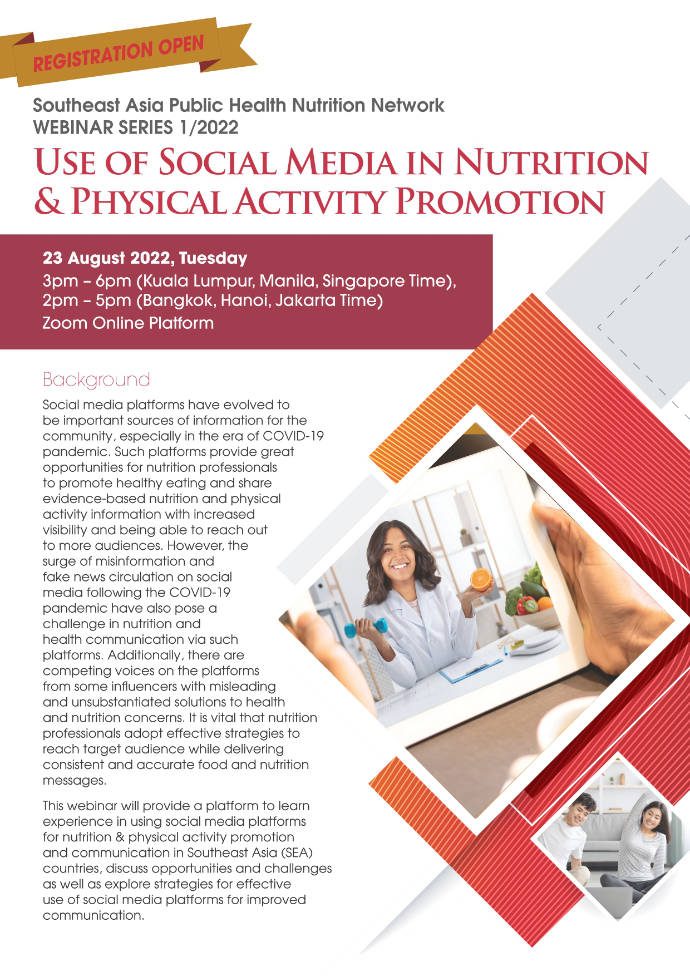 Background
Social media platforms have evolved to be important sources of information for the community, especially in the era of COVID-19 pandemic. Such platforms provide great opportunities for nutrition professionals to promote healthy eating and share evidence-based nutrition and physical activity information with increased visibility and being able to reach out to more audiences.
However, the surge of misinformation and fake news circulation on social media following the COVID-19 pandemic have also pose a challenge in nutrition and health communication via such platforms.
Additionally, there are competing voices on the platforms from some influencers with misleading and unsubstantiated solutions to health and nutrition concerns. It is vital that nutrition professionals adopt effective strategies to reach target audience while delivering consistent and accurate food and nutrition messages.
This webinar will provide a platform to learn experience in using social media platforms for nutrition & physical activity promotion and communication in Southeast Asia (SEA) countries, discuss opportunities and challenges as well as explore strategies for effective use of social media platforms for improved communication.
23 August 2022, Tuesday
3pm – 6pm (Kuala Lumpur, Manila, Singapore Time),
2pm – 5pm (Bangkok, Hanoi, Jakarta Time)
Zoom Online Platform
How to Register?
Download the flyer below for more information.