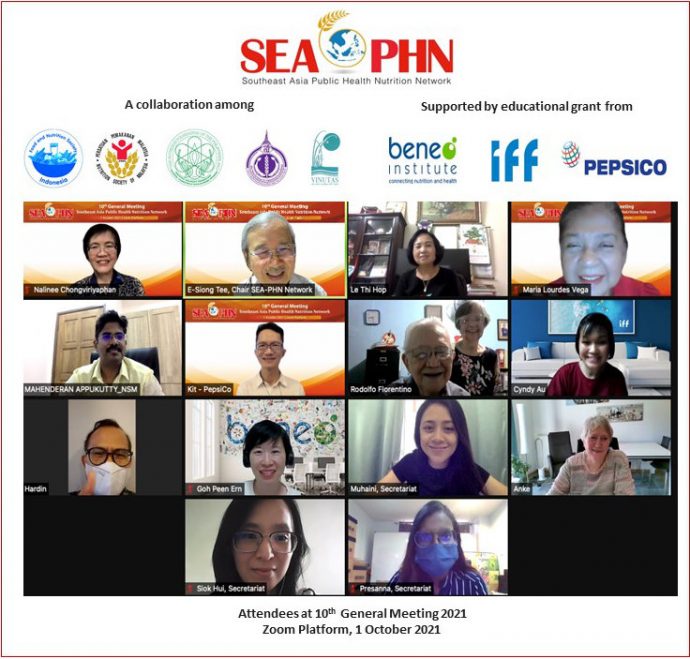 Top row from left: Assoc Prof Dr Nalinee Chongviriyapha (President of Nutrition Association of Thailand), Dr Tee E Siong (President of Nutrition Society of Malaysia), Prof Dr Le Thi Hop (President of Vietnam Nutrition Association), Mrs Maria Lourdes A. Vega (Executive Director, Nutrition Foundation of the Philippines, Inc.)
Second row from left: Assoc Prof Dr Mahenderan Appukutty (Vice-President of Nutrition Society of Malaysia), Dr Kit Phanvijhitsiri (PepsiCo Services Asia Co., Ltd), Dr Rodolfo F. Florentino (Former Chairman-President of Nutrition Foundation of the Philippines, Inc.), Mrs Florentino, Ms Cyndy Au (IFF)
Third row from left: Prof Dr Hardinsyah (President of Food and Nutrition Society of Indonesia); Ms Goh Peen Ern (BENEO-Institute), Ms Muhaini Hussin (SEA-PHN Network Secretariat), Ms Anke Sentko (BENEO-Institute)
Bottom row from left: Ms Voon Siok Hui (SEA-PHN Network Secretariat), Ms Presanna Arumugam (SEA-PHN Network Secretariat)
Date: 1 October 2021
Venue: Zoom Online Platform
The 10th General Meeting of SEA-PHN Network was held successfully through Zoom Online Platform on October 1, 2021. The meeting was attended by all Council Members, representatives from Associate Members, Network secretariat and invited guest. The main meeting Agenda and discussions were:
Minutes of the 9th General Meeting (AGM)
The meeting reviewed and endorsed the previous Minutes from the 9th General Meeting held on September 29, 2020 via GoToMeeting online platform.
SEA-PHN Network Annual Report Year 2020
The meeting reviewed the annual report which documented the activities of the Network in the past one year, the key activities concluded and the preview of Year 2021.
Brief Updates on Major Food and Nutrition Activities/Programmes in SEA Countries by Council Members & Associate Members
All Council members and Associate Members shared a brief update on activities from their respective associations/organisations during the past year.
Updates and Discussion of Network Activities
The meeting attendees reviewed and discussed the activities of the Network:
Webinar series 1/2021 on School Children Nutrition Promotion and webinar series 2/2021 on National Plans of Action for Nutrition (NPANs) in SEA countries.
Publication of a monograph/review paper of the RNIs/RDAs in SEA countries
Updates of NPANs in SEA Countries Monograph
1st Southeast Asia Public Health Nutrition Leadership Programme (SEA-PHN LP)
Potential future activities of the Network

Webinar series 3/2021 on Nutrition Activities during COVID-19 Pandemic in SEA Countries
Webinars for year 2022
2nd SEA-PHN Conference